Background
One of the components within the EENSAT program is strengthening of the research capacity at the Ethiopian partner institutes. This is based on the request from the Minister of Education from Ethiopia a few years back, were the Ministry stated that due to the growth of the number of students and universities in Ethiopia, additional staff with PhD qualification is required. Project partners from Ethiopia have taken the lead in the design of the research program and the common research area in relation to the Growth and Transformation Plan objectives. The research program is also enriched through the remarks made during the kick-off of the EENSAT project.
Setup of the research programme
To strengthen the research capacity, together a coherent research program was development which is addressing the needs of the 3 partners,  in-line with the GTP objectives and which has a number of PhDs, MScs and (co) supervisors working together and supporting each other. Quantitative and qualitative applied studies are conducted within the domains of agriculture, food security and sustainable natural resources and land management.
Based on requests from partners, a PhD "sandwich" construction was developed and therefore more candidates could be enrolled. MSc research topics will be selected so that they support and contribute to the overall PhD topics. PhDs are recruited from existing staff at the partner universities through an openly announced application procedure, following the procedures applicable at the partner universities. Together with other staff from relevant disciplines at the partner university, they have implemented the selection process of the potential PhD candidates. To ensure coherence, also EENSAT members from the other universities participated during interviews and presentations of the potential PhD applicants. To ensure strengthening of capacity to sustain the research effort, co-promotors from Ethiopia have been assigned to each PhD candidate.
The initial PhD proposals were assessed and where needed, amended, for their coherence. A batch of 7 PhD candidates arrived at ITC in July 2018 and further refinement and integration of the PhD research projects continued during the PhDs first (8 month) phase at ITC when they were working on their proposal towards the qualifier. All PhDs are located at ITC near each other in adjacent rooms, fostering cooperation and exchange of ideas. Regular PhD meetings, together with their ITC promotors and co-promotors have been organised to further ensure coherence in the EENSAT research programme.
On 26 and 27 February all PhD candidates passed their qualifier and can now continue their PhD research phase in Ethiopia for the next year. The final topics, presentations, (co)promotors and research proposals are provided in the table below.
University

Name of candidate

(Co)- promotors

PhD title

Research theme

PhD candidate profile

Download

Addis Ababa (AAU)

Amsale Zelalem Bayih (F)

Dr. Rolf de By, Dr. Javier Morales Guarin, Dr. Yaregal Assabie

IoT-based soil monitoring and crop yield management Intelligent System using Deep Learning algorithms

Addis Ababa (AAU)




Habtamu Guja Bayu (M)




Prof. Alfred Stein, Dr. Mariana Belgiu, Dr. Kaleab Baye Yimam

Applying geo-spatial information for integrating crop, food, and nutrition for a healthier food system in rural Ethiopia




Addis Ababa (AAU)

Bichaye Tesfaye Tessema (M)

Prof. Jaap Zevenbergen, Dr Monica Lengoiboni, Dr. Belay Simane

Sustainable Land Management in Ethiopia: Response to Rural Households' Tenure Insecurity, Land Degradation, and Food Insecurity




Bahir Dar (BDU)

Biniam Sisheber Tilahun (M)

Prof. Andy Nelson, Dr. Michael Marshall, Dr. Daniel Ayalew Mengistu

Spatiotemporal dynamics of crop phenology and crop yield: The influence of climate

variability in the Upper Blue Nile basin

Bahir Dar (BDU)

Tegegne Molla Sitotaw (M)

Prof. Andy Nelson, Dr. Wieteke Willemen, Dr. Derege Meshesha

Ecosystem services of church forests and wetlands: supporting rural human well-being in Lake Tana Basin, Ethiopia




Mekelle (MU)

Alem Tadesse Haile (M)

Dr. Chris Mannaerts, Dr. Ben Maathuis, Dr. Amanuel Zeneb

Seasonal and sub-seasonal rainfall and river flow prediction over Northern Ethiopia

Mekelle (MU)

Mewcha Amha Gebremedhin (M)

Dr. Maciek Lubczynski, Dr. Ben Maathuis, Dr. Daniel Teka

Spatio-temporal water resource responses to land use land cover change in semi-arid Upper Tekeze Basin, Northern Ethiopia



Table 1: PhD candidates, (co) promotor and proposal details  
In the overall design of the sandwich PhD construction, during the time the PhD candidate is in Ethiopia, (s)he will be co-supervising MSc students from the partner university, who are conducting research that contributes to the overall PhD topic. This activity will enhance the capacity of the PhD candidates to independently supervise MSc students in the future. As this is one of the tasks of a PhD holder.
PhD candidates selected are staff members from partner universities who will continue their work after finalizing their PhD study at the Ethiopian university. Furthermore, during their time at ITC, additional activities are envisaged to ensure collaboration amongst the group of PhD candidates and their co-promotors. This will enhance the network between the 3 partners in the long term.
Fieldwork
To support the fieldwork activities, instrumentation will be installed such as automated weather stations, as well as other supporting equipment to quantitatively analyse the water and energy balances / cycles as well as equipment to analyse plant spectral response(s). This will be supported by low cost ground reception stations to acquire near real time satellite based observations and derived products relevant for atmosphere, land, water and climate research applications. UAVs will be used for detailed image acquisition when required, amongst others.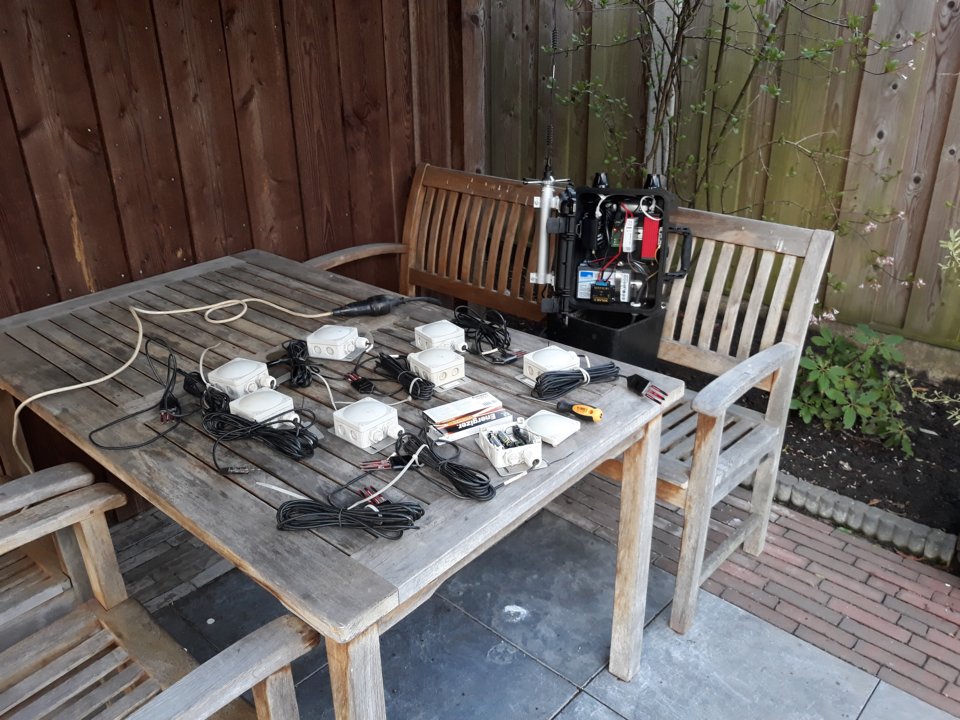 Figure 1. Internet of Things, testing the setup of gateway, LoRa network devices with soil moisture - temperature sensors